Garage Door Opener Repair & Replacement Services
A garage door opener makes opening and closing your garage door more convenient. It offers security and is safe, not to mention highly reliable. However, it can be frustrating when you press the button, and nothing happens. Why didn't the door open? In most cases, it is a problem with the opener which is preventing your garage door from opening. While you can manually open and close it but depending on which garage door you have it can be difficult and frustrating. That is why you should call a professional service like ours!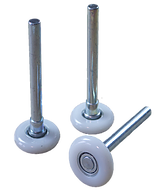 Top Quality and Professional Garage Door Opener Repair & Installation at Your Home
At Excellent Garage Door, we specialize in repairing all types of openers. Plus, we can replace an opener and install one from scratch. Our professionals have years of experience troubleshooting and fixing garage door openers. Over the years we have become the professionals of choice for many establishments and homeowners alike.
Our team comes fully prepared to troubleshoot the problem with your opener. Once the issue is identified, we get right to fixing it so that your time isn't wasted waiting for us to finish. Most times the fix takes only a few minutes. However, if it can't be reliably repaired, we will recommend a replacement. We may also suggest a garage door replacement if we see that the issue will reoccur because of a fault with the garage door which is otherwise too expensive to fix.
We Maintain All types of Garage Door Openers
When you call us, you can be sure that regardless of the opener type or when it was purchased we can fix it. Our garage door replacement maintenance can maintain any garage door which extends its service life. It is essential to bear in mind that there is a reason why we are the company of choice for people who want quality garage door service.
Contact us today to experience a professional garage door opener repair service unlike any other. Call us to find out more.